Montenegro
...around the bend
The road up to Cetinje from old Kotor at the head of the fjord – not for the feint hearted – was it 32 or 42 hairpin bends? – we lost count!
In Europe there is no other country with so much variety in such a small area. Montenegro has 30 km of coastline, the largest lake & the deepest canyon in Europe, fertile wine growing plains & imposing mountains. Montenegro also has numerous cultural monuments and reportedly the second tallest women in the world.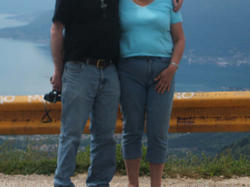 This old guy insisted he took our photo & that we bought some 'domestic' cheese & ham from him. The cheese & ham was better than the photo!