Mostar
Looking to the future
The East (muslim) side of Mostar was under siege for 11 months - all bridges connecting the 2 sides were destroyed.
Mostar is now in practice two cities, with separate banks, postal systems, monies, hospitals, universities, taxes, etc. Despite it's troubled past, the streets of Mostar are safe, one is not harassed or bothered, theft is virtually unknown, and women may walk confidently at night.
A little gallery showed moving pictures from during the conflict. The bridge was completely destroyed in 1993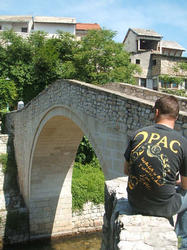 Contemplating - with no job, no pension - what does the future hold? Most tourists come for the day from Croatia, photograph the bridge, eat their butties & go home.