Republika Srpska
...we're on the road to nowhere...
Very basically Serbia Montenegro is mainly Serbian Orthodox, Bosnia & Herzogovina (BiH) mainly Muslim & Croatia mainly Catholic. However each country has mixes of each ethnic group, although so called 'ethnic cleansing' (there was nothing clean about it, it was genocide) has altered the demographics. Much of BiH has largely Serbian populations & is known as Republika Srpska, here they use the Cyrillic alphabet on road signs so it gets a bit confusing. http://en.wikipedia.org/wiki/Republika_Srpska
The Sutjeska National Park with 17,500 hectares of wilderness, hosts one of the two remaining primeval forest in Europe & the highest mountain (Maglic 2386m) in BiH. Changing our route meant we had the opportunity to go through some of it. Many of the hiking trails have not been cleared of mines yet & wilderness huts destroyed by bombing so generally it is recommended to stay on well used roads/ trails throughout BiH at present.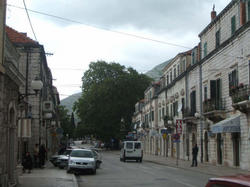 Treninje - we managed to obtain BiH convertible marks (can't get the currency outside of the country). We're now carrying 5 currencies & Karina has completely lost the plot,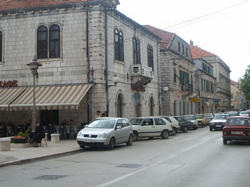 Plenty of cafes for coffee (the Bosnian national pastime) but no food - crisps & jaffa cakes for lunch
Enlarge the photo to see the shepherd. Every flock of sheep and goats had a shepherd sitting patiently with them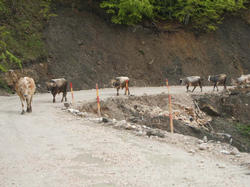 Diversion - the main road to Sarajevo. Miles & miles of gravel roads. Shared with cows, sheep and coaches (yikes!)